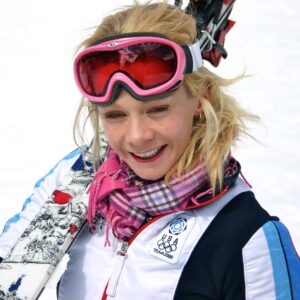 Michelle Roark is a cum laude graduate of Colorado School of Mines in chemical engineering, scientist of bioenergetics, certified perfumer, wellness entrepreneur, and author. She is also a two-time Olympian, World Cup Champion and three-time National Champion in Freestyle Mogul Skiing. Aspirations on the slopes set her down a path of research, discovery, and unexpected personal growth. 
As the Founder, CEO, and Aromatic Scientist of Phia Lab, she studies the bioenergetics of the botanical world. Based on her pioneering research into the energy content of biological essences, she created an all-natural wellness product line to form the Phia brand. The Lab is based in Denver, Colorado, where she also runs and operates the award-winning Phia Alchemy Wellness Studios.
Michelle still enjoys doing extensive custom blends for individuals in Phia Alchemy as well as numerous parties for all ages in the workshop space.
Michelle's high energy, charismatic, and sparkling personality has inspired others in all she does. During a competition in Vancouver, NBC commentators referred to Michelle as "pure happiness". In her role as chemist and creator, Michelle enjoys interacting with clients and redirects her energy to ensure satisfaction in her products and delivery.
Michelle's attitude in life is to live fully, love wastefully, be "phi-nomenal" and to surround herself with people who believe in the same.